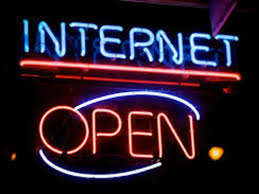 The Federal Communications Commission (FCC) with support of big cable and telecom companies has been ready to jump on revoking its authority to enforce net neutrality rules. This July 12, dozens of websites, companies and organizations such as Amazon, Creative Commons, Internet Association and Netflix will participate in a "Day of Action" to keep net neutrality from being destroyed. The group is calling for community action in support and awareness of net neutrality.
But, does net neutrality matter? Does it matter which big corporations control the internet?
Current net neutrality rules prevent powerful broadband providers (Charter and Comcast), as well as giant wireless providers (AT&T and Verizon), from blocking or slowing down access to lawful content. Here's an important detail: these companies can't create "fast lanes" for content providers who are willing to pay extra (and then passing the cost on to the consumer). What that means is your internet service provider (ISP) can't hold you hostage by slowing your Amazon Prime Video or Netflix stream to a molasses crawl (so you keep your cable plan), and your mobile carrier can't prevent you from using telecom apps (like Microsoft's Skype) instead of your Verizon cell phone plan minutes.
So, does net neutrality as we know it matter? You better believe it does!