We understand the special challenges of health and wellness organizations, especially your need to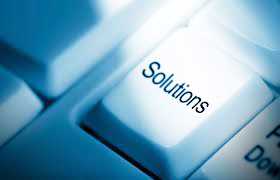 attract new clients, retain existing ones and deliver great programming, all while juggling dozens of schedules, personnel and facilities. The industry is undergoing a major shift as new providers drive down the cost of membership. To remain competitive, you've got to find innovative ways to cut costs, and deploying new technologies is usually a significant part of that strategy. Digital West has worked with some of the largest fitness providers in the US, and we've put together a suite of technology services that will reduce your costs, "wow" your customers and grow your ROI.
Tech Trends in Wellness
Internet & Wifi. Between the hundreds of clients coming through your doors who demand wifi and the volume of data you generate, you need r
eliable Internet connectivity. We provide you with a minimum of 50 Mbs up and down of pure fiber optic speed!
Mobile Apps. Whether you want your clients to hear your tv audio on their phones, track their fitness progress, or even find your classes, we've got apps for that!

Scheduling. We connect you with state-of-the-art scheduling software and host the data in our data centers, providing out-of-region redundancy in the event of a disaster. Use it to schedule trainers, rooms and client appointments.
Grow the Business
Attracting and Retaining Members. Consumers have more choices than ever, including lower-than-ever membership rates. We can show you how technology can actually reduce your operating expenses and shave costs throughout your business so that you can remain competitive.
IT Planning. How can you plan for future growth when you can barely keep up with the demands of today? We'll help you develop a roadmap and, over time, we'll get you to your desired destination.
Tech Support. We have a number of technology resources to help your facility run seamlessly, from backups to cloud services to network design, and all of them come with our live, local team of experts, available 24/7/365.

"In 2014, 90 million wearables, including fitness trackers and smartwatches were sold worldwide, and this number is expected to reach 200 million in 2015.
DW Fitness Clubs
Manage Technology Resources
Managing laptops and devices. With so many employees coming and going, it's difficult to get everyone on boarded, with the right login credentials and the right equipment. We can take this burden off your plate.
Website. You're in the business of wellness and with so many frequent changes to programming and personnel, it can be difficult to stay on top of the website. We offer web and email hosting, domain registration and more.
Office Productivity Tools. Keeping everyone informed and on the same page is a never-ending battle. We can set you up with a sweet integrated communications platform that handles everything from your intranet, to file storage to instant messaging.
Control Expenses
Increasing IT and admin costs. We help you identify aging servers and equipment, provide access to state of the art data center resources, and find other ways to help you cut expenses.
Entry Control. Take advantage of key tags or bio metric screeners that track your members' participation in programs, let them charge products to their account, and free up your front desk staff. You reduce theft, identity "sharing" and operating expenses.
Outsourcing Decisions. There are times it makes sense to outsource functions like payroll, tech support or web development, but we can help you evaluate whether it's actually saving you money. In some instances, we can handle these functions for you.