If you've called Digital West for technical support in the last 2 years, there's no doubt you would have spoken at some point with our Network Operations Technician Kyle Lemons. He works directly with customers to support their service inquiries, whether it be website or email hosting or anything else! In addition, he has most recently been studying network administration, specifically in regards to Juniper Networks equipment and received certifications in the field.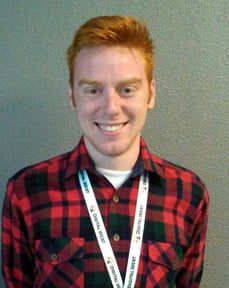 Affectionately known in the office as "Lemons," Kyle has taken up new roles and been a strong leader in training new fellow NOC staff. He can be found playing his guitar, hiking, and spending time with family and friends while not at work. Also, he and his wife Aleena will be celebrating their 1 year anniversary at the end of this month!
Kyle started working for Digital West in March of 2014 and has really enjoyed his time here. "I never dread coming into work," Kyle said. "It's a friendly, relaxed environment, and it feels great to be part of a company who's making a difference in our area."
We're lucky to have Kyle on staff here!