Introducing MetroVoice, our unique cloud-based phone system and the newest product in our Voice Services line. MetroVoice provides your business with a unified telephone and communications system that scales to your company, no matter what size.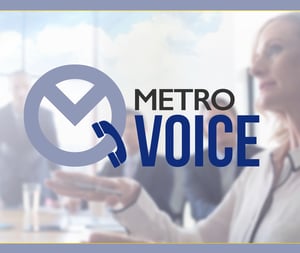 With MetroVoice, you'll actually get more features than an on-premise phone system but at a lower cost! MetroVoice is a robust communications system that provides your business with a phone system with full calling features plus mobile apps, instant messaging, online integration collaborative communication and much more.
And, by controlling our On Net engineering end-to-end, MetroVoice gives you the best voice quality possible.
One MetroVoice Solution, Four Choices
We offer three cloud phone solutions that quickly scale to the size and needs of your business. We can help you optimize your communication costs and you still get some special features you won't be able to live without.
MetroVoice Essentials: This package is perfect for start-ups and companies which need the basics of a business system:
Auto-attendant features lets customers reach "sales" or "billing" or "customer service" - but it's all you.

Full standard calling features like caller ID, call waiting/hold/transfer, paging, voicemail.

Keep your personal cell number private, but still have your business number ring to your cell phone.
MetroVoice Standard: This is the MetroVoice sweet spot solution and includes everything in the Essentials plan and: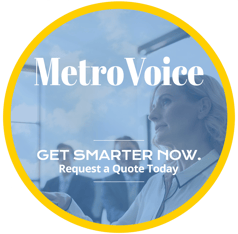 Collaboration tools like instant messaging, CRM integration and video chat.

Mobile app.

Outlook Contact and "Presence" - see if someone is on the phone or in a meeting.

We provide the phones, upgrade them automatically at no extra cost, and program your entire system over the Internet.
MetroVoice Professional: Our best value, this plan includes all the features of the Standard package and:
Online integration with your Outlook Calendar and Contacts.

Remote Desktop Control.

Collaboration with web meetings (similar to WebEx or GoToMeetings). When you have remote workers or multiple locations, your off-site and on-site team share the same tools.

Share screen, voice and content.

You won't need physical phones when you download the soft phone software.

Plus, your per user fee scales down the more users you have
MetroVoice Ultimate: This includes everything your business could need in a telephone system: the features of the Professional package and:
Call Recording.

Voicemail Transcript.

Unlimited Business SMS.

Premium Attendant
With our unique On Net engineering, our cloud phone platform runs all your voice data through a PBX switch in our own data center. Your voice data is delivered over the same networks we use to provide your high-speed Internet connection, but we prioritize your voice data over all other data on the network. Digital West controls all points of connection - from your business call to your recipient. This makes your On Net connectivity and voice quality with MetroVoice unparalleled in security, clarity and reliability. And as usual, you have a 24/7/365 expert and local customer service team to help you every step of the way.
Get smarter now - contact us to request a MetroVoice quote!