Last month, the Federal Communications Commission (FCC) reversed net neutrality rules that regulate broadband providers who connect us to the Internet. This month, the net neutrality battle arrived in Sacramento. State Senator Scott Wiener, D-San Francisco, introduced SB822, a bill that requires telecommunication companies doing business in California to guarantee equal Internet access. "We will protect a free and open Internet in our state," tweeted Wiener.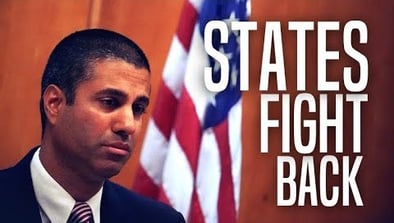 SB822 will attempt to leverage state Public Utilities Commission regulations that oversee telecommunication companies to compel providers to maintain net neutrality rules.
The bill's draft would require the state to buy Internet services from companies that comply with net neutrality. It would also require cable franchise agreements, state consumer protection laws, and "state-granted right to attach small cell or other broadband wireless communication devices to utility poles" to adhere to net neutrality rules.
New York and Washington have taken similar action to guarantee equal Internet access.
Furthering California's efforts to enable equal Internet access, on Jan. 16th, California Attorney General Xavier Becerra joined other state attorneys general in a joint lawsuit that challenges the FCC's repeal according to the San Francisco Chronical. The lawsuit by 21 states and the District of Columbia asked the U.S. Court of Appeals in Washington, D.C., to review the FCC's 3-2 vote on Dec. 13 to repeal Obama-era net neutrality rules.
Narehania also served as former FCC special counsel and focused on net neutrality before he left in 2013. "There's an argument to be made that the FCC doesn't have the preemption authority it claims, especially because the FCC now has to clear a pretty high bar," he said in an email. The proposed SB822 bill could succeed as it relies on its own regulatory franchising and purchasing power "…the FCC will have to show it preempts all of this."
Though it's a start, SB822 and similar legislation still have their hurdles in state senates and assemblies, as well as other unknown roadblocks, despite the FCC releasing its full declaratory ruling. However, Wiener said, California still needs to take action. "…California can't sit by and wait for something to possibly happen…we can enact smart regulations to protect net neutrality right here. If something happens to fix this issue nationally, that's great news," said Wiener.
As of January 15, 2018, 50 senators have endorsed legistlation that overturns the FCC's deregulation: all 49 Democratic senators as well as Senator Susan Collins, R-Maine. The senators need one more Republican vote to reach the required 51 to pass a Senate resolution that can restore net neutrality and prohibit the FCC from passing similar future measures. As we watch this battle closely and continue to support net neutrality, many groups feel that this issue may only be fully resolved if Congress overrides the FCC.