Last week, we introduced MetroVoice, our unique cloud-based phone system and the newest product in our Voice Services line. Cloud communication and MetroVoice can unify your business communications systems, give you a cost-savings and expand your company's reach.
The business communications landscape has been changing as rapidly as technology grows. The current cloud-based telephone solutions and other unified communications platforms now make it more viable, affordable and cost effective than even a few years ago.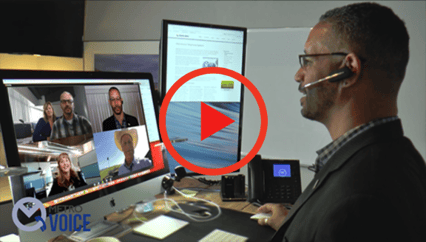 Cloud implementation costs have become more efficient, making it easier to move to the cloud given hardware and financial investment companies have already purchased or financed.
These days, cloud-based telephone systems empower businesses to communicate anywhere, anytime with anyone. Cloud phones decrease geographical space when collaborating with and managing teams - especially off-site and remote employees - potentially increasing your business reach and audience.
Cloud-based communication systems are scalable, flexible and offer rich features, often better than on-premise systems. No matter the size, cloud phone systems can be customized to any business. They offer advanced communication features everyone needs to grow and stay competitive.
The MetroVoice communications system provides your business with a phone system that includes full calling features plus mobile apps, instant messaging, online integration, collaborative communication and much more. MetroVoice offers one solution with four choices: Essential, Standard, Professional and Ultimate packages, giving you the freedom to customize your system to your needs.
Why MetroVoice Cloud Phone System? It's Easy!
MetroVoice cloud system gives businesses of any size great cost-savings - no upfront costs
Robust telephone features such as voicemail, collaborative communication and online integration
MetroVoice is scalable and organized - configure your system online, add users as you need to
Choose a MetroVoice plan that grows with you
Presence lets you set up virtual offices and work with off-site employees

Employees at different locations using MetroVoice experience the same call quality and get the same features

Free up your IT department to manage IT not phone systems
On Net prioritization for unbeatable voice quality and clarity
Some providers have an added benefit by offering their voice systems over privately managed networks keeping your traffic off the public internet. MetroVoice gives your business this unique, On Net advantage. Our cloud phone platform runs all your voice data through a PBX switch in our own data center. Your voice data is prioritized: your voice data is delivered over all other data on the network. Digital West controls all points of connection - from your business call to your recipient.
This makes your On Net connectivity and voice quality with MetroVoice unparalleled in security, clarity and reliability.
As always, we have live and local you customer service experts to help you every step of the way, 24/7. Unify your business communication and move it to the cloud, request a MetroVoice quote today!