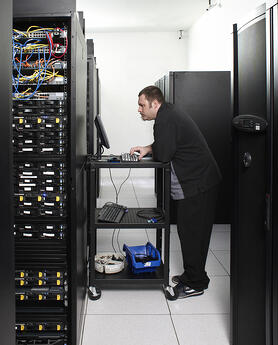 More and more business professionals are turning to Managed Network Services to free up their own staff and gain insight from IT experts. The role of a Managed Network Operations Center (NOC) is to proactively monitor a company's network (Internet connections, security, etc.) and repair any network issues that may arise. Outsourcing a Managed NOC saves a firm valuable IT time, as network engineers rapidly assess the situation before the company may know that there is an outage. Have you considered relying on a trusted partner to monitor and manage your network? Here are five reasons why many companies choose to outsource their IT monitoring:
1. Consolidate information from multiple locations
If you have multiple locations for your business, then you know the challenge of keeping everyone connected, your systems up and running, and information flowing smoothly. Network Operations Center engineers will monitor your systems and handle the needs of your remote locations around the globe.
2.
Free up your internal staff to focus on high-level issues and business growth
You may not have the time, staffing capabilities, or tools in place to effectively monitor your firm's IT network. When it's time to focus all of your energy on growing your business and effectively serving your own customers, the last thing you want is to waste valuable IT time trouble-shooting and monitoring company networks between remote locations.
3. Have access at your convenience to the availability, responsiveness, and performance of your critical IT components
Utilizing Managed IT Services doesn't mean that you lose control of or access to your performance reports and tracking. On the contrary, it allows you to be fully updated and alerted at all times without having to identify and troubleshoot issues yourself.
4. Keep your network monitored and managed at all hours
Oftentimes abuse happens in the middle of the night, so having 24-hour monitoring in place is critical for your business' security and success. On top of simply monitoring your systems, it is important that the engineers be trained in responding to alerts and knowing how to fix the issues.
5. Reduce operating expenses by outsourcing
You'll notice the financial burden of staffing and overseeing your own IT Department taken off your shoulders when you trust a specialized Managed NOC. Put your time, energy, and financial resources into nurturing your business, and let the tech experts handle your growing network and infrastructure.
Interested in learning more? Download a free smart paper explaining the importance of SLA Monitoring below:
---