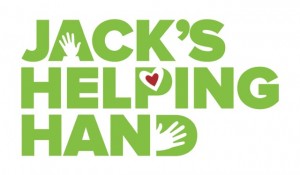 Digital West's Core Value of Giving Generously drives us to provide in-kind website hosting to any local non-profit, and Jack's Helping Hand is one of the many incredible organizations in our community that we support. We value the work that Jack's Helping Hand does of improving the lives of children in the community and want to let our followers and fans know about them.
Founded in 2004 by a family who had recently lost their son to a rare form of brain cancer, Jack's Helping Hand was created to assist children in the community with cancer and special needs who have unmet physical, mental and medical needs. The organization provides a variety of programs, varying from swimming classes to horseback riding to special camps for the children.
Jack's Helping Hand receives ongoing support through financial donations and volunteers, and they also have a few fundraising activities throughout the year, including the upcoming Imagination Park Fall Classic Golf Tournament (which we are excited to participate in!).
Looking for a way to support this awesome organization? Visit their website for more info: http://www.jackshelpinghand.org/ways-to-give/
Digital West is proud to support dozens of local non-profits through in-kind hosting and charitable contributions. To see the other organizations we sponsor, visit https://www.digitalwest.com/company/community/.