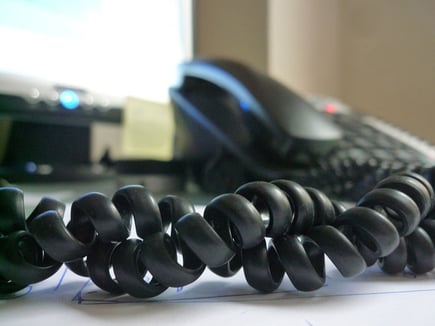 Businesses are embracing business technology and transforming the way they operate. Voice Over Internet Protocol (VoIP) phone systems have become mainstream and must-have for reliable and efficient business communication. And VoIP is budget-friendly! VoIP is also called Internet telephony, broadband telephony or IP telephony, voice over broadband or hosted phone.
How Does VoIP Work?
The way VoIP works is it encodes the digitized voice and that code is transmitted to the receiver over the Internet. The signal is decoded so that the receiver can hear the sender's voice. This phone system is handled by a setup called Session Initiation Protocol (SIP) and the session continues until it is disconnected.
VoIP systems have different up and download speeds (symmetry), as well as different latency times (the milliseconds between the time a signal leaves the sender and the receiver's system receives it). Both affect voice quality and the callers' experience. Another critical difference in VoIP products is whether the system uses the public Internet or a privatae network to transmit data. National providers typically use the public Internet which can degrade voice quality as voice data is shared with the same lines that transmit email, streaming data (such as video or TV) and Internet surfing data.
Most providers include a cloud-based (or hosted) PBX system as part of their service. This connects the call for its specific endpoint to an incoming line. This PBX system is generally house in a secure data center.
VoIP has come a long way and is a standard business communication tool these days. The system also offers many cost-benefits and productivity advantages to small, medium and big companies. Here are eight significant ways your business can benefit from VoIP.
8 BUSINESS BENEFITS OF VoIP
Lower Costs
The cost of traditional on land lines can be an investment to install and costly to maintain, repair or upgrade as your company grows. Reconfiguring phone lines and system set ups can require a system representative visit to your business too. VoIP doesn't require hardware installation or a physical visit should you need maintenance. If you do business overseas, VoIP can be helpful especially for international calls. VoIP keeps your communication system costs manageable now and in the future.
Easy Scalability
With fairly simple initial installation, hosted business VoIP makes it easy to add, move or change users. Your business isn't burdened with telephone wiring or additional hardware so if your company changes, you don't need to schedule someone to update or upgrade your system. VoIP systems scale up or down easily and you'll always have the right amount of phone lines you need.
Integrated Voice and Data
One of the significant benefits to VoIP is that it uses one network for both voice and data, improving efficiency and lowering costs.
Integrated Communication Services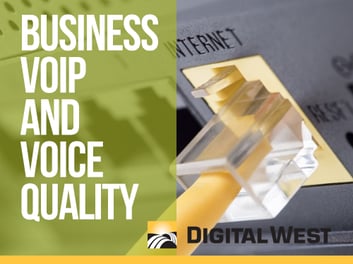 By using one network, VoIP systems integrates other communication applications such as email, fax, chat, video, data and of course, voice. Cloud-based phones systems give you all the phone features you expect from traditional lines such as call hold and forwarding, conference calling and automated menus. Your business can incorporate smartphones and tablets, giving people even more communication and information sharing options and functionality.
Integrated Security Systems
Security applications can be networked into the VoIP system – intercoms, doors, alarms and visual security systems. Companies can enhance the security of less traveled or remote areas, machines or other locations.
Improved Customer Service Care
VoIP can improve customer service by giving you better response times and facilitating face-to-face communication. VoIP systems generally have clearer connections resulting in an exceptional communication experience. Your business can build trusting relationships and deliver highly personalized service wherever your customers are.
Portability and Remote Work Options
VoIP gives companies flexible and/or remote working options and allows team members to work from anywhere, near or far. VoIP can be accessed wherever there is an Internet connection which is ideal for people who travel. Additionally, employees can use their phone numbers wherever they are – hosted VoIP systems allow you to send calls anywhere your employees go.
Streaming Voice and Video
VoIP is a big advantage if your company works on or transmits video: faster connection and loading speed as well as consistent quality of service while videos are streaming. Your business can expand opportunities for training and client, partner, team collaboration with streaming voice and video.
The But…
VoIP is not without some considerations however. VoIP is dependent on your Internet connection. If your system goes through the public Internet, it's likely to have some quality issues such as delays, echo and dropped calls. Via public Internet, it's also more vulnerable to cyberattack, as with any other Internet-based device.
Not All VoIP is Created Equal
One of the best business VoIP investments is to use a privately networked system. Systems like these are engineered to keep your voice and data lines off the public Internet and secure in a data center ("on net" voice quality). Your phone calls are prioritized over other data, email, streaming content, video, web-surfing, etc. and your data is much more secure from attack. "On net" engineering ensures you receive superior voice quality than other types of VoIP connections. Click on the image above to find out what features make some VoIP systems better than others for businesses.
Digital West's hosted phone service is engineered with the preferred on-network connection; we deliver exceptional VoIP and voice services that exceed the standards of many national providers. To learn more, visit Digital West Voice Services.