Tucked away in the South Pacific lies a sometimes forgotten U.S. Territory – Guam. Guam is the southernmost of the Mariana Islands and has a population of roughly 160,000 people who live in 19 different villages, or provinces. Guam is probably best known for its U.S. military bases, which cover about 30% of the land; however, Guam also has fully functioning government and economic operations.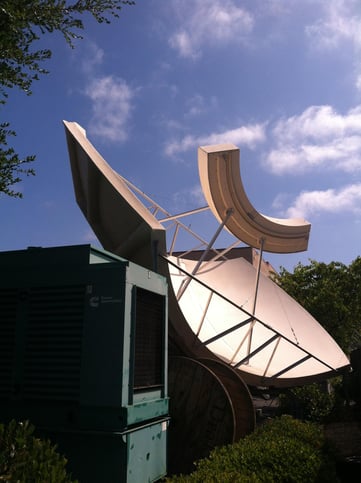 Docomo Pacific is the primary cable, Internet and phone provider for the citizens of Guam. It's owned by Japan's NTT Docomo, which serves over 60 million customers via advanced wireless networks. In order to connect to an Internet backbone on the mainland United States, Docomo Pacific sends its data via satellite right here to San Luis Obispo via the Digital West data center. If you've ever been to our office, you may have seen the huge satellite dish out back. That dish receives the satellite data for all of Guam's television programming, giving residents the ability to watch hundreds of channels of network broadcast and "cable" content. Docomo Pacific colocates its receivers and encoder/decoders in the Digital West data center, which then streams the data needed to connect to each account in Guam.
About 5 years ago, Docomo Pacific (then MCV Broadband) would mail tapes 6,000 miles across the ocean to Digital West to store the data in our facility. Each shipment would take days to travel across the Pacific Ocean. The digital advancements over the past few years have certainly made the communications more efficient, as the data from tapes that were once delivered by mail are now transmitted via satellite communications.
It's pretty mindboggling to realize what a signficant role we are playing in delivering modern communications to an entire U.S. Territory! We've partnered with Docomo Pacific for several years, and it's exciting to see their growth and impact on the communities of Guam.
Like what you read here? Click on the icon at right for our free smart paper on the difference between colocation and cloud services for your business.