Although Digital West is privileged to support many San Luis Obispo area non-profit organizations with in-kind hosting and other charitable contributions, September has been a month to focus on the company Core Value of Giving Generously.
At Digital West, Giving Generously is a value that allows us to help our community thrive and succeed. We have grown and continue to grow because of the support of the community in all areas - commerce, education, non-profit and government.
Imagination Park Fall Classic Golf Tournament
Each year, Jack's Helping Hand raises money for the Jack Ready Imagination Park with their Fall Classic (IPFC) golf tournament. Our Digital West team played a round of golf and had a great day at the beautiful Monarch Dunes Golf Club with other Jack's Helping Hand sponsors and families.
Jack's Helping Hand is one of the very special organizations in our community that provides support and assistance to children with cancer and special needs.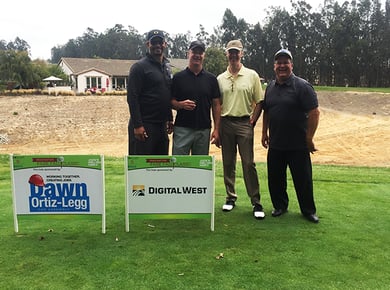 Above, our Digital West golf team (L-R): Michael Boyer, Tim Williams, Dave White and Mike Casey.
Below, Michael and event sponsors, MINDBODY team.
Michael was a lucky winner of MINDBODY's corn hole golf game.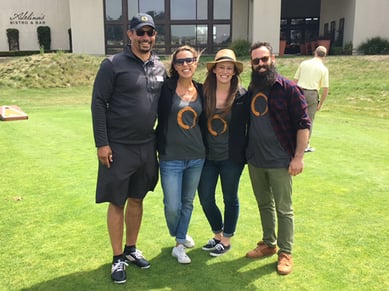 ---
Coast Hills Rancho Vino
The CoastHills Credit Union Foundation hosted the 10th Annual Rancho Vino fundraiser with the Presqu'ile Winery in Santa Maria. Digital West was fortunate to be there for the presentation of Generous Harvest, bottles of Pinot Noir and Chardonnay specially labeled for Rancho Vino.
Funds raised from this evening support the Allan Hancock College agribusiness program and ensure the future success of Central Coast farming. In 2015, Rancho Vino event raised more than $55,000 for the college, the single largest donation made in the history of the agribusiness program.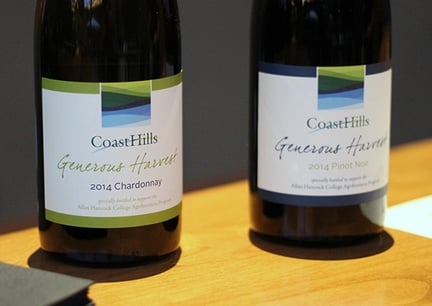 Specially labled Generous Harvest bottles of Charonnay and Pinot Noir.
---
Catch of the Central Coast
Set over the water on the Hanford Pier in Avila Beach, Digital West enjoyed live music, a live and silent auction and of course, a delicious, locally sourced dinner at the 4th Annual Catch of the Central Coast fundraiser dinner.
The Catch of the Central Coast benefits the Central Coast Aquarium which has been providing marine programs and serving school children between Monterey and Santa Barbara for over 20 years. The Aquarium is a special and important marine resource and marine science center for children all along the Central Coast.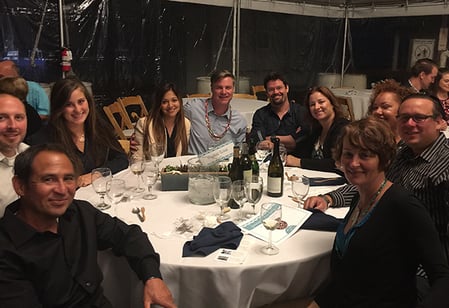 The Digital West team sitting fifteen feet above Avila Bay at Catch of the Central Coast.
---
Digital West and Community Giving
Digital West is proud to support and invest in many local non-profits, technological initiataives and community organizations. To see the other organizations we sponsor, visit https://www.digitalwest.com/company/community/.