Digital West is privileged to be involved in our community and give back to many San Luis Obispo area organizations; our combined strength through community involvement helps all of us thrive and grow.
One of our core values is Giving Generously. This is the value that inspires us to contribute our support to communities and organizations, who in turn help the Central Coast flourish. We continue to grow because we are stronger together in all areas - commerce, education, non-profit and government.
Imagination Park Fall Classic Golf Tournament
Jack's Helping Hand is one of the very special organizations in our region which assists hundreds of Central Coast families and children who live with illness and physical challenges.
Each year, Jack's Helping Hand hosts the Imagination Park Fall Classic Golf Tournament. Funds from the golf tournament go to completing the Jack Ready Imagination Park. Located on the Nipomo Mesa, this is the only park between the Bay Area and LA dedicated to making sure children with special needs and their families have a safe and accessible place to have fun.
This year, Digital West is again a host sponsor of the golf tournament and we are sponsoring #TeamMateo. In addition to our two golfing teams, we're helping to raise funds on behalf of our young friend, Mateo Cota, a very courageous fighter aka "The Beast." Here's his story...
Mateo, The Beast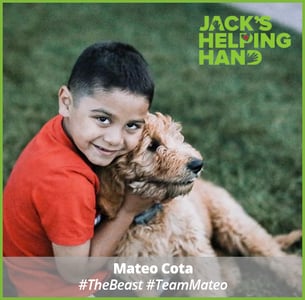 On September 23, 2013, Mateo was 11 days shy of his 2nd birthday when he was diagnosed with Acute Lymphoblastic Leukemia (ALL), a type of childhood cancer. On December 23, 2016, Mateo finished over three years of treatment. He was back at school and enjoying life for eight months when, In September 2017, Mateo relapsed; this time the disease affected his central nervous system and bone marrow. For the last 10 months, he's been fighting like a BEAST. However, he unfortunately relapsed again on July 25, 2018. Mateo will now move forward with additional treatment at Children's Hospital of Los Angeles and Jack's Helping Hand will be there by his side to continue to help him and his family along the way. Learn more about Mateo, The Beast:
http://www.teammateobeast.org/
If you would like to join us and raise funds, please click on this link (it will take you directly to the Jack's Helping Hand Fundraising page):
Go Team Mateo
!
Supporting Our Communities
In addition to serving on many boards of directors and participating in local events, such as the Transitions Mental Health Strike Out Stigma Bowl-a-Thon and the RISE Fashion Show, our Digital West team belongs to Chambers of Commerce and Rotary Clubs along the coast. We are proud to be a sponsor of Cal Poly Athletics as well, especially knowing that university programs encourage development of all kinds on the Central Coast. We volunteer our time with conservation groups, lifeguards, arts organizations and church organizations.
As a company, we have a special interest in and have invested heavily in building the technology infrastructure necessary for our area's economy and businesses to grow. The first step was creating fast internet MetroFiber connectivity around San Luis Obispo and we continue expanding fiber access to Central Coast communities. Digital West is always excited to support technology initiatives such as the SLO HotHouse and groups such as Softec and their Softec Robotics Expo.
Here are a few places we'll be this fall, please join us!