There are plenty of companies out there claiming to give you unlimited website hosting for an incredibly low price – sometimes even for free. If the thought "that's too good to be true" comes to mind, then you are on the right track. Below we will dive into the myths behind free hosting unlimited bandwidth claims and help you determine what claims are trustworthy.
The Reality of Shared Hosting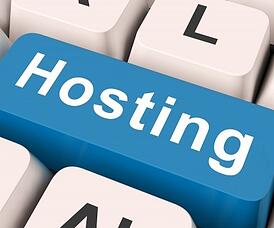 When you choose a company to host your website, it's likely that your site will be hosted on a shared server with multiple other businesses. If all of the websites on the server suddenly have unusually high spikes of activity in a day, the server would not be able to handle the bandwidth requirements, causing some of the websites to go down. Offering unlimited hosting and bandwidth is unrealistic to all customers on a shared server, because there is no way of being 100% sure that the server could accommodate all of those unlimited needs. To get away with their "unlimited" claims, hosting companies use the fine print to explain that they have the right to throttle (limit) a customer's traffic to their website if their site is hoarding the server and limiting the other customers' bandwidth availability. So before signing with a company offering free hosting with unlimited bandwidth, be sure to get all the facts from them first.
Unlimited Space
Another enticing claim you may get from free hosting companies is that you will receive unlimited disk space. What they fail to mention, however, is that you cannot always use that unlimited space for what you want. For example, some users may want to allocate their unlimited disk space for offsite data backup, but the hosting companies that offer free services most likely will not allow that. It is more likely that when a company offers specific amount of disk space, you can use it in whichever way you choose.
More Options for a Growing Business
If your website is the main driver for sales, or you experience unexpected or seasonal spikes in website traffic, you probably need more than a shared hosting account. A good option is to use either a virtual private server or virtual resource pool. Both allow you to use your space and bandwidth in whichever way you choose. Virtual resource pools are easily scalable and can grow or shrink with your business as you prepare for spikes or declines in traffic. Virtual servers also give you the dedicated space requirements you need, without the confinements of a shared hosted server.
If you host with Digital West, your website will never be throttled just because you are successful. We have engineers that can work with you to determine your needs and recommend the best options for your business – whether that simply be a shared hosting account or your own virtual server.
If you're opening up a new business or email account, this smart paper will you help you decide what email platform is best for you: