Get ready to change the way you dial local calls in the 805, there's a new 820 area code overlay coming to town.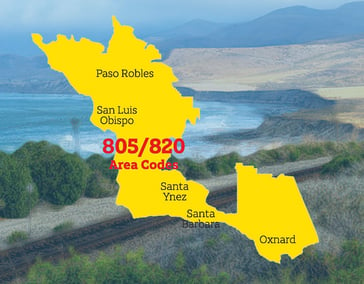 The California Public Utilities Commission (CPUC) will start issuing phone numbers with the 820 area code in June 2018 to ensure a continuing supply of telephone numbers. Telephone customers in San Luis Obispo, Santa Barbara and Ventura Counties, as well as areas of Monterey and Kern Counties, will be affected by the new 820 area code overlay.
The addition of the 820 overlay does not require customers to change their exisitng area code. But it does mean that all local landline phone users will need to dial "1" followed by "805" or "820" and then the telephone number for every call - even calls within the same area code. Mobile phone users may choose to dial the area code + telphone number or 1 + area code + telephone number. By June 2018, callers will no longer be able to dial only seven digits for local calls.
The CPUC urges all customers to begin using the new dialing procedure starting December 1, 2017. During a six-month "permissive dialing period," if you forget to dial the area code and only dial the 10 (or 11 on mobile devices) digits, the call will still go through.
Beginning June 2, 2018, if you don't use the new dialing procedure, the call will not be completed and you'll hear a recording instructing you to use the new dialing procedure.
What Else Changes?
Besides dialing your phone this way, all services, automatic dialing equipment or other equipment and devices that have been programmed to any 7-digit telephone number will need to be reprogrammed using the new procedure. This includes life safety systems, medical monitoring devices, PBXs, fax machines, alarm security systems, gates, speed dialing, call forwarding, voicemail settings, etc. Personal and business stationary, business cards, checks, advertising, websites, pet ID tags and other informational material should be update as well.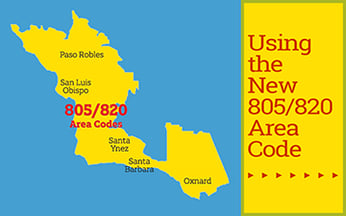 What Stays the Same?
According to CPUC, these remain the same:
Your telephone number, including current area code
The price of a call, coverage area and other rates and services remain the same with the overlay
A "local call" remains a local call regardless of the telephone number dialed
Dialing the three digits for these services: 911, 211, 311, 411, 511, 611, 711 and 811
If you have questions about the 805/820 overlay and/or your Digital West voice service, we are more than happy to help you! Please visit New Area Code Dialing Instructions or call us at 1+ (805) 781-9378.
You can also visit the CPUC 805 area code page for more background on the 820 overlay.
Again, the counties that the 805/820 overlay affect are small parts of Monterey and Kern Counties and most of San Luis Obispo, Santa Barbara and Ventura Counties.
The affected cities are Arroyo Grande, Atascadero, Grover Beach, Morro Bay, Pismo Beach and San Luis Obispo in San Luis Obispo County; Buellton, Carpinteria, Goleta, Guadalupe, Lompoc, Santa Barbara, Santa Maria and Solvang in Santa Barbara County; and Camarillo, Fillmore, Moorpark, Ojai, Oxnard, Port Hueneme, Santa Paula, Simi Valley, Thousand Oaks, and Ventura in Ventura County.