2017 is ticking away - are you aware that the IRS Section 179 Tax Deduction deadline is December 31, 2017? You can create your own tax break using this the 179 Deduction when you purchase qualifying business property, like a telephone system, before year-end. Digital West offers several types of telephone systems, including Panasonic and Cisco phone systems, that will help your business get a tax break using Section 179.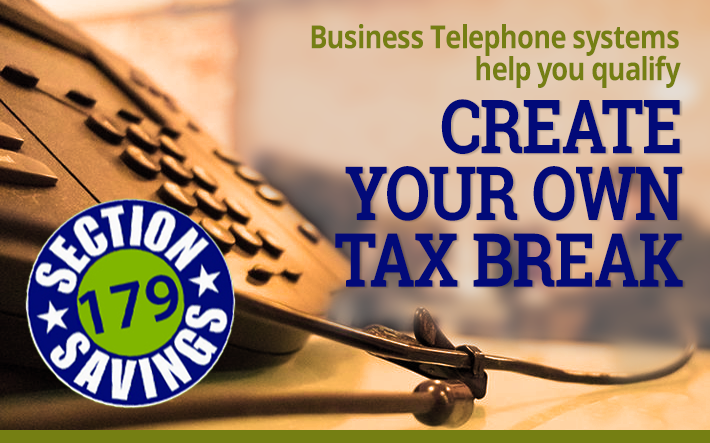 Section 179 Deduction allows you to deduct the full purchase price of your business phone system and other business equipment and assets up to $500,000 from your gross income. So, now is a great time to invest in or upgrade to a new phone system and take advantage of the Section 179 Tax Deduction.
Under the IRS tax laws, business owners are allowed to recover the costs of all or part of specified equipment or buisness purchases up to $500,000. The Section 179 Deduction allows owners to use the deduction immediately for eligible property, providing the items were purchased (bought or financed) and used in the deduction year. IRS Section 179 is fairly simple to use for recouping your business property and asset costs.
How does IRS Section 179 benefit my business?
The biggest benefit of IRS Section 179 is that you can deduct the cost of qualifying property and assets right away. Section 179 was put into place to help small business owners by allowing the depreciation deduction for certain assets (called capital expenditures) in one year, generally the year the property was bought, rather than depreciating over time. Most business property usually requires depreciation over the course of the property's lifetime. So the benefit of taking the full deduction for the purchase price immediately is much greater than spreading the deduction over time.
What business property is elibigle for Section 179?
The IRS has two requirements for business property to qualify for the Section 179 Deduction:
1. Qualifying Property: The property must be "tangible, depreciable, personal property which is acquired for use in the active conduct of a trade or business." So, land and buildings are not "qualified property," but most other property or assets, such as vehicles, are.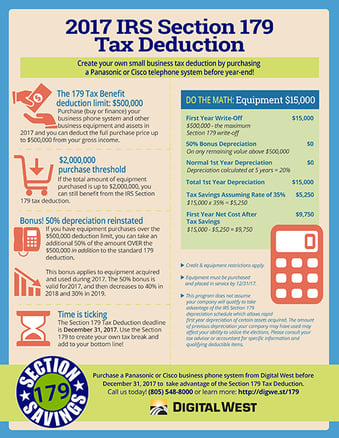 2. Purchase and Use: Business owners need to buy and use the items in the year in which you use the Section 179 Deduction. This means the property must be set up and running and you are are using it in your company or business. Buying property and then storing it does not qualify for the Section 179 Deduction.
What qualifies under IRS Section 179?
To use Section 179 Deduction, the business property must be depreciable and includes: agriculture structures, computer software, storage facilities, tangible personal property, telephone systems, and other qualified real property such as improvements to retail real property, leasehold improvements or restaurant-related property.
Certain property doesn't qualify: land and land-based improvements like swimming pools or parking areas and leased property or property used for lodging can't be deducted under Section 179. Click here for details from the IRS giving more information on eligible property.
$2 million maxiumum limit on purchases
While the Section 179 Deduction is a very helpful tool for small businesses, there are some limitations. For 2017, you can deduct up to $500,000 of your capiltal expenditures up to $2 million for your business. If your qualifying property purchases were over $2 million, you'll lose $1 in for every $1 over the $2 million maximum. So, if you spent $2.1 million on qualifying property, then you can deduct only $400,000 using Section 179, because the total expenditure was $100,000 over the $2 million limit.
Please feel free to download and print the infographic above and make sure you take advantage of IRS Section 179 Tax Deduction this year.
Contact Digital West to create your business tax break and make the Section 179 Deduction work for you. Call us today at 1 (805) 548-8000, we'll help you choose the best Panasonic or Cisco business telephone system that fits your business needs!