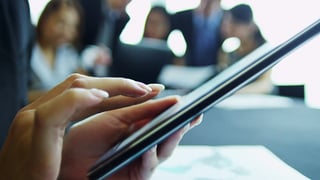 There's no question that the way legal services are delivered is rapidly changing. Law firms increasingly
rely on computer and data management systems to create, share and store information. Even when analog (or even paper) means are used to create documents, they are converted into some type of digital format for organization and management. Research, document review and communication between clients, other attorneys and courts have sped up because of digital technology. In fact, many law firms have gone entirely paperless.
Tech Trends in Law
Digital Records & Data Retention in the Cloud: Although some law firms still use paper files and physically house them both on- and offsite, an estimated 90% now scan or convert their files to a digital format and store them in the cloud. There's also data from email, PCs, cell phones, flash drives and Internet—based phone systems. And while regulations for data retention differ across industries, law firms have data retention requirements ranging from six to 10 years, depending upon the state. That's a lot of data! Cloud technologies provide the means for attorneys to readily access information and communicate with clients. Some larger firms have their data stored on in-house servers or in a colocation facility, but smaller firms and individual attorneys tend to purchase cloud storage from an IT provider that has the facilities, expertise and hardware in place to securely host their data. This is a cost-effective approach that also eliminates the need to hire costly IT personnel. Cloud technologies can also aid in making daily logistics, such as billing, time tracking and contract management, more efficient.
Backup & Recovery: As estimated 40% of businesses don't start backing up their data until they have a hard drive failure, yet data is always at risk from natural disasters, malware, loss and theft. Most law firms are ahead of this curve and mitigate data loss by implementing some form of backup and recovery system, whether it be other external hard drives, cloud backup or storage at an offsite location. Yet surprisingly, they're still not backing up data using the 3-2-1 Rule, and according to an 2015 ABA Legal Technology Report, only 26% are taking advantage of arguably the most cost-effective and painless way to back up their data: cloud backup.

Percent of all documents created and received by businesses are now electronic.
ARMA International
Security: Law firms struggle with a wide range of security issues, from the complex to the mundane. Password management, antivirus protection and basic security education are often lax. In fact in 2015, 23% of large firms reported experiencing a security breach, according to the 2015 ABA Technology Report. That same study revealed only 20% use full drive encryption and about 35% use email encryption. Data encryption protects stored and transmitted data and should be a basic safeguard for every law firm; email encryption makes email content inaccessible unless you have a passkey, ensuring the email remains confidential and privileged between the sender and receiver. Another trend impacting law firms is malicious activity – hacking, installing malware or attempting to gain access to confidential information. Roughly 34% of firms report that they have a dedicated person or Chief Information Security Officer responsible for data security. Even with IT personnel in place, they still may not have the systems in place to carefully monitor

their network for suspicious activity. Some firms are even investing in cyber insurance to protect against the likelihood of a major data security breach.
Legal & Office Software Management:

Between legal and documentation management software (e.g., AbacusLaw, Trial Works and Amicus Attorney) office productivity suites (e.g., Office 365, Google Docs, DropBox), research tools (WestLaw, Lexis, Loislaw) and presentation software (e.g., Sanction), there are a lot of moving pieces. Many offices struggle with set up and support issues, not to mention integration, backup and upgrades.
Mobile Marketing: Mobile browsing is quickly overtaking desktop usage, with consumers spending 60% of their time on mobile devices or tablets, according to Good2BSocial. To attract new business, law firms need to ensure that their websites are optimized for mobile devices and search engines. In particular, practices that focus on personal injury, medical malpractice, divorce, immigration and criminal law are investing significant marketing dollars to improve their search engine rankings.