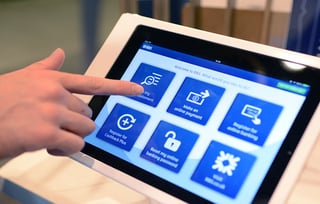 As the world becomes more and more digital, banks, credit unions and other financial institutions recognize the need to meet consumer expectations in their increasingly real-time world. This shift in technology means that the financial world must rethink the "branch-centric" model and move toward a omni-channel, customer-centric digital model. It means moving toward tech solutions with a big emphasis on on data security, access control and compliance requirements. For consumers, the next few years mean a progressively integrated and synchronized banking experience.
Banking & Finance Tech Trends
Connecting Digital and Branch Experience:
Financial institutions are expanding their mobile services and integrating their customers' banking and mobile experiences from application processes to general transactions.
Tablets, Self-Service Kiosks and Video ATMs: Tablets allow customer service representatives to meet with and help customers who don't need window service. Self-service let customers do their banking inside a brand on their own; some customers may chat with a remote teller through video ATMs.
Online Banks: These are gaining in popularity because traditionally online banks have fewer fees than brick-and-mortar banks.
Remote Deposits: Allow customers to take a photo of their check with their smartphone and have it deposited straight into their account. Now used by national banks, this technology should be available to most regional and credit unions by year end 2016.

Gartner's forecast for the percentage of global banks that will process the majority of their transactions in the cloud.
Information Week, Gartner
Cyber Security: Preventing fraud is among the top challenges banks and financial institutions continue to face. The industry will look to adopt new data security methods and form partnerships with security platforms to detect and mitigate threats in a timely manner.
Big Data Strategies: These are generally focused on reducing risk, meeting regulatory objectives, analyzing fraud detection and improving customer satisfaction by identifying providing institutions insights into improving operations.
Wearable Digital Banking: This is a growing strategy for financial institutions to evolve the banking landscape to digital channels. The launch of the Apple Watch will bridge the digital banking adoption gap.
Biometrics Replace Passwords, PINs: These traditional methods can get lost or stolen. Allowing customers access to accounts with mobile banking apps via fingerprints and other biometrics (voice, imaging, eyes) will be more commonplace.
Cloud Services: The move to cloud services will allow banks to reduce costs and offer more agile computing solutions, including improved data security, customer relationship management and disaster recovery.
Beacons: The use of beacons, a device that communicates with a shopper's smartphone in a bid to improve their in-store experience, will provide more personalized experiences for banking customers, such as providing offers to cardholders if they use them at the bank's partner stores or use the banks' products while they wait in line.