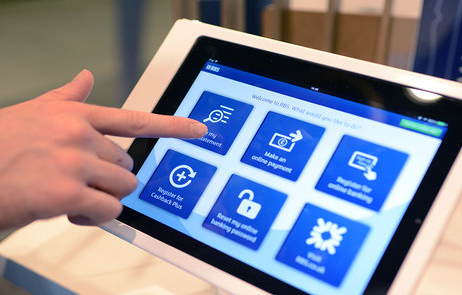 As the world becomes more and more digital, banks, credit unions and other financial institutions recognize the need to meet consumer expectations in their increasingly real-time world. This shift in technology means that the financial world must rethink the "branch-centric" model and move toward a omni-channel, customer-centric digital model. It means moving toward tech solutions with a big emphasis on on data security, access control and compliance requirements. For consumers, the next few years mean a progressively integrated and synchronized banking experience.
Banking & Finance Tech Trends
Connecting Digital and Branch Experience:
Financial institutions are expanding their mobile services and integrating their customers' banking and mobile experiences from application processes to general transactions.
Tablets, Self-Service Kiosks and Video ATMs: Tablets allow customer service representatives to meet with and help customers who don't need window service. Self-service let customers do their banking inside a brand on their own; some customers may chat with a remote teller through video ATMs.